Ever thought of having passive income? Yes, I know everyone will be looking out to have one. But, the question is how to do it?
Personally, I have tried many things to have a passive income setup and earn money easily online. Starting from Blogging, mobile apps, affiliate marketing, ebooks.
What I understood from all these is we need to have a great content to rock on internet as well we should know SEO and how to market our content. If we fail to achieve one then our efforts does not pay off.
Most of the people start a blog and write some 10-15 post and then they loose interest (if not a serious blogger). Every time we have to write something from scratch and that should be unique to rank higher.
I know, being creative in writing and what to write is all time big question.
The secret to earn money easily online!!!
Before I reveal my secret to earn money easily online, I would give you some insights about the app and the analytics part of it to prove it has got real potential to earn money.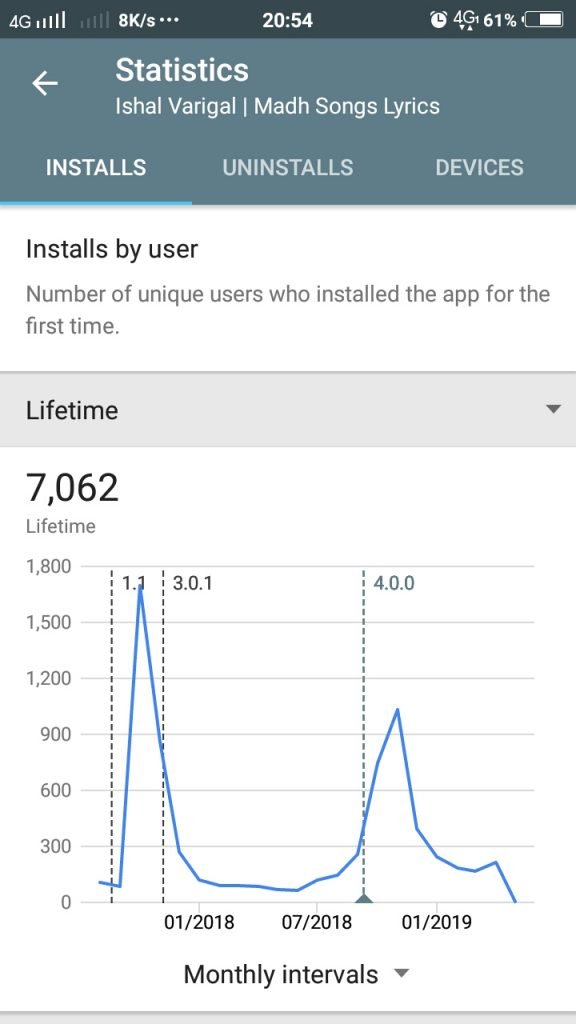 Like most of you guys, I struggled a lot to come up with unique app idea that should be useful for end user and for me too. Not only in terms of money but also in terms of content and maintenance cost.
First thing, content is king! Agree? But, how to be unique and catchy, readable, go viral all the time? Not possible.
Second thing, maintenance cost. Are you ready to pay when you do not get ROI? No. Say for the themes, server cost etc.
Having these two things in mind I planned this unique idea where I do not have to pay single penny for the server nor I have to scratch my head for unique content everyday.
So what is the Idea and what is the app?
The Secret is Revealed!!!
The app idea which has the potential to generate $$$ is nothing but a Regional Lyrical app. Yes, you heard it right.
Don't be upset or sad by hearing what I said. I am going to explain how this is going to work for you if you are seriously interested to earn money online.
Before I move on, let me share two things about this app. First, how much I have made so far and second how and where to get the content. How to write the content and many more things.
Ishalvarigal – Madh Songs Lyrics
Long back, I thought why there is no app for religious songs in my native language? Till then all the singers used to have song lyrics collection in a book and carry where ever they go.
I thought of creating an app which will benefit me as well as many other singers. No need to carry the books, no need to write in a paper sheet any more. Everything should be available on our finger tip.
When you search for local songs, that too in our native language,which is famous among us, we do not find the lyrics until we by-heart it. Agree?
So why not we help our community as well we earn money from it? Sounds Interesting….
Native Lyrical App – Insights, Analytics, Downloads
I have two version of the app on google store now. You can check the app here
I have lot of content to write and you believe or not so far I have written 250+ songs. That's huge content right?
Check out below Ishal varigal kannada app earnings so far
Recently, I started Malayalam version of it and I did not do a single rupee marketing. Not even in my fb pages nor in whatsapp group. I got more download in Malayalam than Kannada. Below is the proof.
Even though I am not a native Malayalam speaker or writer, I some how managed to write lyrics in Malayalam too. So far with just 50 lyrics my app made 13$+… I am excited to see the dollar's…Don't you?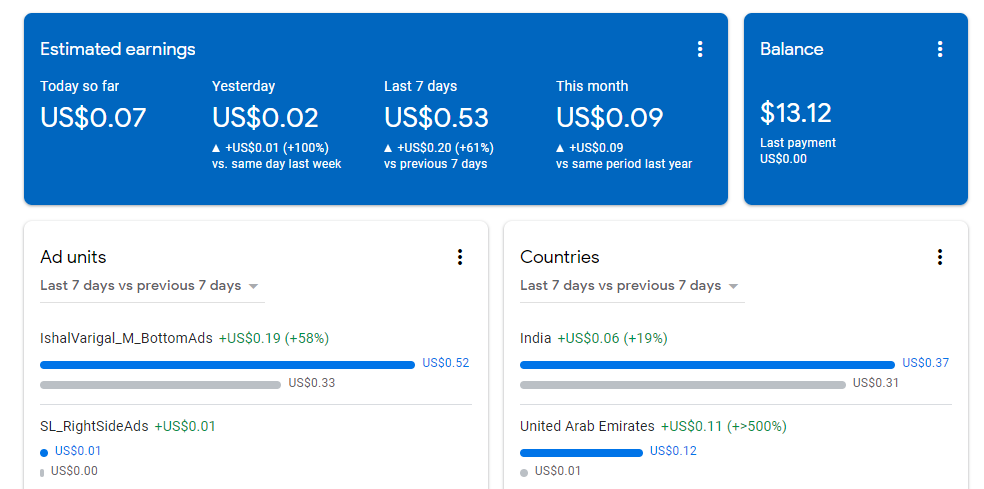 Do you know, I do not have any server or wp themes installed. No database to store the songs, nothing. I just have a blogspot blog and have my content's posted there which automatically gets in my app. That's cool right?
With all free of cost online system, I earn money easily online
so how can it benefit you? How to set one for you? Will this work for you?
Lyrical App – Technical Stuffs, Benefits and More!!!
So far you have seen the data insights, google adsense report, downloads, active users etc. Now I will share what technical things you need to know?
No much work required as per my experience. You just need to write the lyrics in your native language. You can use this app to write –
Movie/Filmi songs in more than 11 Indian languages
Devotional songs
Religious songs
Different types of local songs like madh song, naat e shareef, stotras etc
What is uniqueness in this app? We can add youtube video in a post. This will be easy for users to learn the tune.
How can I write content in my native language?
Don't worry! I have a solution for that too! You can make use of regional language translator tool like Quillipad to write in your local language. Even blogger supports native language writing.
My Trick for content writing in less than 10 min!!!
Initially, it will take time to write in native language alone. So, here is my trick. Write down the lyrics in a document in english+ native language. For example : If you are planning for hindi content use Hinglish. ( De De Pyar De)
Once the content is ready, go to Quillipad editor and paste it. It will automatically converts it to native language. So, your content is ready.
Multiple Benefits of this hybrid App Idea!!!
You know what – you can even monetize your blogspot blogger if adsense supports the language. Check adsense language support.
No server required. No maintenance cost. No renewal cost. Blogger by google is best!
You have 1000's of content to write now. If the content already available in English, just copy and paste in quillipad editor to your local language. Done deal!!!
On app front, beautiful UI design. One click data update. More room for ads. You can have custom ads in a different tab. user's can request their favorite lyrics. Just check below my users request for lyrics! I have got more than 100+ songs lyrics so far. User is also happy!!!
Mobile App Cost and Features
So if you are looking to earn money online this is one best way I can say. By now, you have known the potential of this app. If you want to try this app and make money without much work on content.
Lyrical App Android Source Code Cost – Rs. 3500 /-Rs. 2500 /-
If you do not have knowledge of Android Studio, how to publish your app or how to build apk file, or not even google play account that cost you $25 life time, then we have a solution for it too.
We will build the app for you, we will publish the apk to play store. You just have to work on content.
Lyrical App Build + Publish to Google Play Store – Rs. 4200 / – Rs. 3500 + (Rs.100 annual maintenance cost / year)
For more details, you can get in touch with me byaribeats@gmail.com or whatsapp +91 8762822742
We also customize the app based on your requirement. The charges are applicable as per the requirement and time required for work.
Cost Analysis : Source Code v/s Build + Publish to store
If you buy only source code then you need to have google developer account to publish the apk. The developer account will cost you 25$ for life time.
You need to know Android Studio basics to build signed apk file and upload the apk to store.
On the other hand, if you opt for Build and Publish to Store, we will build the app for you, we will publish the apk to google play store. Hassle free. You just need to concentrate on content first and then marketing the same in your circle.
Bonus : If you are looking for customized blogger theme, where end user cannot copy your content and block adblocker, we can develop on for you for a nominal cost.
Check out this blog for blogdemo.
If you have any questions feel free to contact me – byaribeats@gmail.com